A building clad in stone
The building is laid out on three floors. The ground-semi-basement floor has areas of general use, accesses, a distribution atrium, a conference room and rooms used for courses. The lirst floor is mainly assigned to administration areas. The second floor contains the President's and Secretary's offices and the Boardroom. The gross surface area decided on was 1,760 m2 (the result of an exchange between Granada's town council and the Ministry of Work).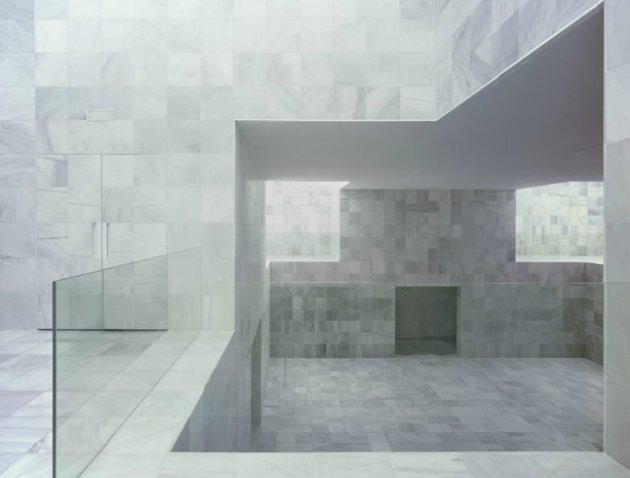 We would like to mention the prior townplanning conditioning lactors. The building has a diagonal north-south aspect. The maximum height allowed is two floors and there is an enormous natural depression in the plot.
A building clad in stone, conditioned to the environmental conditions of the area
The main access to the building is on Maestro Montero St., the largest and most important street. There is an entrance far both cars and pedestrians with a smooth 8% ramp, which leads to an open courtyard at the access level (semi-basement at street level and ground floor at the inside of the plot). There is a secondary exit for vehicles and pedestrians on Maria de Zayas St., which is an emergency exit.
The access leads to a semi-underground courtyard which functions as a reception hall. After going through reception, one enters the main organizational space of the project, a double-height atrium covered in white marble plates. Three of its corners are perfarated at first floor level to let in the morning and midday light and twilight, as the diagonal of the building is along a north-south aspect. These perforated corners in the diagonal of he building also have a double height. Each is covered with a skylight and is closed to the exterior with glass in the corners of the second floar. This atrium serves as a reception and distribution area for the rooms used for courses, the conference room, the nucleus of vertical movement, the installations and the WCs.
On the first floor, after leaving the nucleus of vertical movement and the WCs, one reaches the corners of the main atrium, also of double height. These give access the offices and function as distribution areas open to the central space of the building.
the second floor is assigned entirrely to Presidential areas. On this floor the corners are thrown back into alignment to allow light to enter the skylights of the main atrium. these corners become terraces on the presidential floor.
The exterior of the building is covered with sierra Elvira marble shuttering and anodized aluminium windows. the plates of this finish are 20x60cm and 40x60cm. The interior atrium is covered in Macael white marble, as is the floor, with pieces of 40x40cm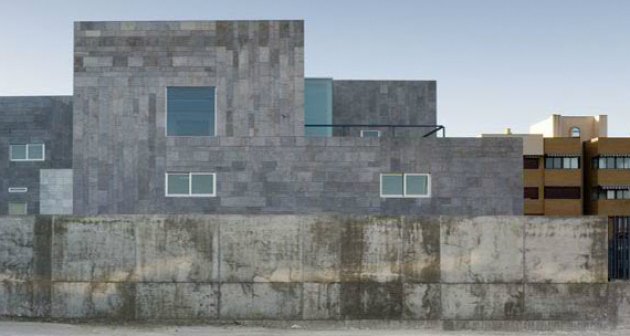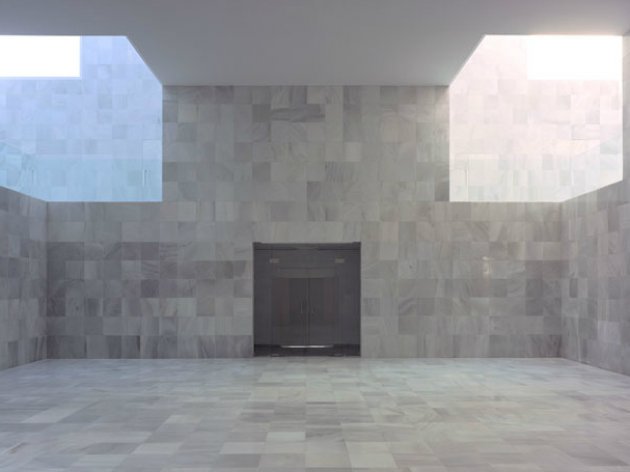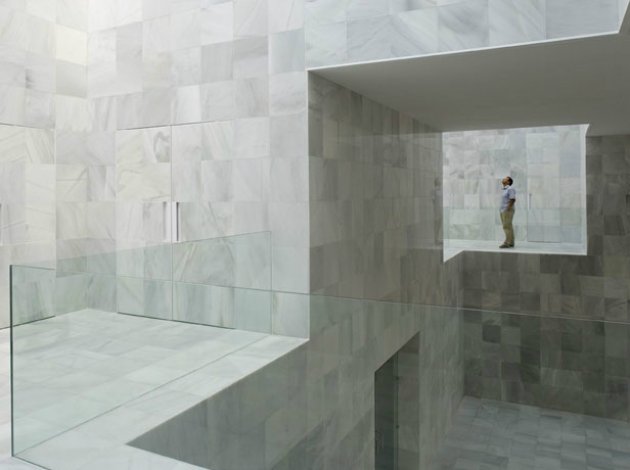 Fuente fotos: Fernando Alda y Javier Callejas
Datos del proyecto:
Arquitecto: Alejandro Muñoz Miranda
Situación: c/maestro montero, Granada
Año construcción: 2004-2006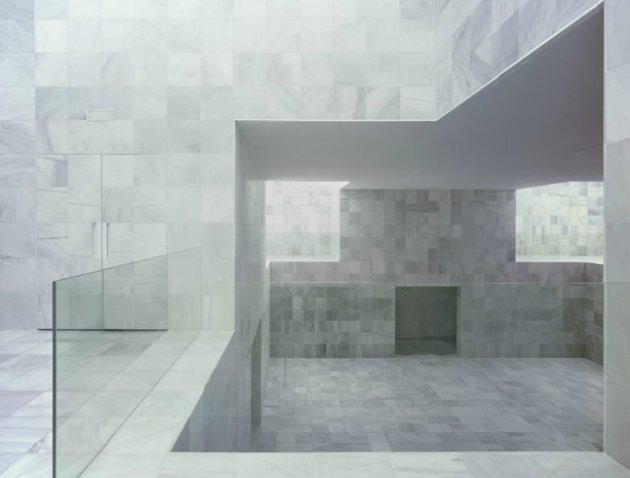 A building clad in stone
A building clad in stone, conditioned to the environmental conditions of the area